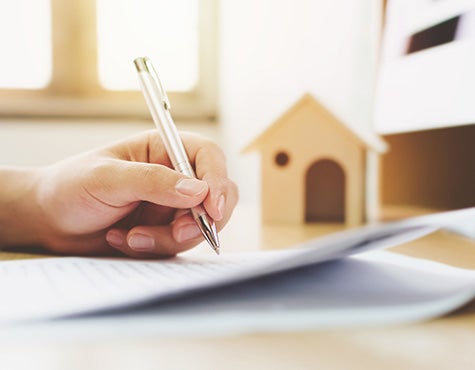 The negotiations are over, and the real estate deal has gone firm! The big day when you move into your home is just on the horizon. This is very exciting but there are a few things that need to be done between now and then to make sure everything runs smoothly. 

The completion date is when the property officially becomes yours and the title is transferred over. The possession day usually follows the completion day by a couple of days. This is when we meet at the property and hand over the keys so you can move in. These dates are very important and are stated in the contract. Your realtor should follow up with you at least a month before completion a few times leading up to these dates. The contract states what time you can take possession of the property. It is usually between 10am and noon but it is important to know in order to coordinate the move in.


Here is an important check list leading up to your completion and possession date:


1. GIVE NOTICE TO YOUR LANDLORD
If you are currently renting you will want to provide your landlord with a minimum of one full months notice. Once you have let your landlord know you are leaving try to line up the dates and reserve an elevator for moving out.


2. HIRING A LAWYER OR NOTARY
One step in the closing process is to hire a lawyer and or a notary to sign the transaction documents. Its good to get this set up sooner than later as the lawyers typically need around 2 weeks, although things can be done on shorter notice. The Lawyer/Notary will ensure the transaction goes smoothly and the payment is made on time.
If you are looking for a trusted Lawyer or Notary we have several we can refer. Feel free to reach out to us for our list of preferred and trusted services.


3. SETTING UP YOUR HOME INSURANCE
An essential item to have completed prior to your Completion Date is to have home insurance in place for the Completion date, not the possession date. Just remember you are the owner of the property on your completion date.
We suggest getting a few quotes from different insurance providers to ensure your personal insurance is in line with the strata insurance policy, and covers all the strata deductibles. Now more than ever with the increased insurance rates you need to look over insurance policy. It would have been provided in the strata documents your real estate agent had requested during the negotiations. Most lenders will not finance a property with out insurance so it's very important that you have insurance in place before completion.


4. MOVE YOUR ACCOUNT WITH BC HYDRO AND FORTIS BC

In order to make sure you have electricity and heat when you move in you will want to contact BC Hydro and Fortis BC. The BC Hydro and Fortis BC websites are very easy to use:






5. SET UP YOUR CABLE/PHONE/INTERNET SERVICES
Get in contact with service providers in your area. Some areas have a few different providers than the typical Telus and Shaw. We suggest speaking to neighbors about who they are using. You can likely book your appointments in advance of moving in to ensure you have cable and internet as soon as possible.


6. CONTACT YOUR STRATA
Your new strata will need to know that you are the owner. They should provide details to set up an account to pay strata fees. You will also want to book an elevator through strata for your possession/move in day. Your real estate agent can provide you the strata managers contact, or it should be in the minutes that you looked at during the negotiations.


7. WAIT FOR THE COMPLETION DAY
Here are some things you can expect on the Completion Day or a few days prior, depending on when you're meeting with the Lawyer:



a.Your lawyer provides you with a Statement of Adjustment with costs payable by you. This takes into account the purchase price, any applicable GST, Property Transfer Tax, some property taxes, strata fees, move in fees, Lawyers fees, etc. When you meet with the Lawyer, you'll need to bring these funds by way of a bank draft, along with ID.

b. Your mortgage lender forwards the mortgage funds to your lawyer.
c. Your lawyer forwards funds to the seller and completes all the necessary documents.
d. The title is transferred from the Sellers name to your name and is registered at BC Land Titles Office.



Once the sale is registered in the Land Title Office, the property is officially yours! You'll get a notification from the Lawyers that the transfer was successful and that you'll get the keys on the Possession Day indicated in the contract. Keep in mind that you need to sign the documents in the presence of a Lawyer or Notary, so if you're going to be out of town just before the Completion Date, you'll need to ensure that you have an appointment booked with a Notary, in the city you'll be located, who will coordinate with your Lawyer in Vancouver.


9. HIRING A MOVING SERVICE
You could move on your own, but we highly recommend hiring a professional service to handle the heavy lifting. Try and book this as soon as possible as these companies get busy at the beginning and end of the months. Some moving companies will even store your belongings for an extended amount of time if your dates don't line up perfectly.
We have several companies we can recommend. If you are interested in our preferred service list we can send it over to you.


10. CHANGE YOUR ADDRESS
It's a little surprising how many place your address is. Prior to moving you will want to start the process of changing over your address to your new location. This will include your employer, an email to all your friends, subscriptions, Driver's License, Insurance, Bank etc etc. If you are worried about the change over with snail mail you can pay to have Canada Post forward your mail for an extended amount of time until the new address is more official.


11. THINK ABOUT HIRING CLEANERS
Everyone's definition of clean is different. Most contracts stipulate a professional cleaning service must be used before a buyer takes possession. We suggest even when you are moving into a home to have cleaners come through a give it a once over before you take possession. We have several cleaners we can recommend that are trusted and do an excellent job.
12. CELEBRATE
You are finally ready to move in! Since all of the items above have been taken care of you can celebrate and enjoy your new home.
Are you thinking about Buying or Selling in Greater Vancouver?


Our team is experienced with Buying and Selling across the Greater Vancouver area. Please reach out at any time and we would be happy to help. The market is always changing and we would love to chat with you about buying or selling real estate.