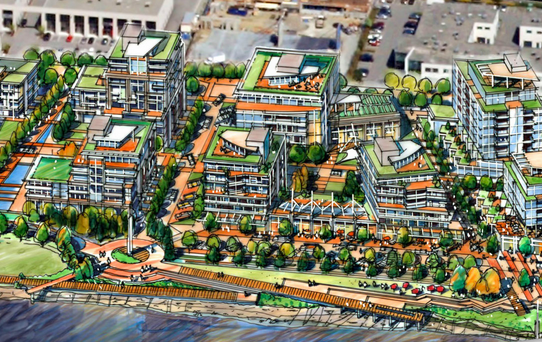 Harbourside Waterfront – Concert Properties – North Vancouver
The highly anticipated and long awaited Harbourside Waterfront by Concert Properties is soon to become a reality. The team is still working through the fine details but it can be assumed that this unique waterfront community that will offer amazing views of Downtown Vancouver and the local North Shore Mountains will be available for purchase soon.
The rezoning proposal which includes a total of 18 buildings and an estimated 700 new residential homes was approved back in 2014. The master planned community will also include retail, office and even a new hotel.
Concert Properties is using the term 'Industrial Chic' with a connection to the natural world when describing the persona their hoping to create for this new community. This look will include soft coloured brick, concrete, wood, steel and glass.
Concert Properties is an award winning developer and is making every effort and taking every precaution to make this Habourside Waterfront community appeal to the local community. The development will be built to a LEED Gold standard. They will also be creating a 1 acre city owned park as well as integrate a number of public spaces that will weave between the structures. One concern of many of the North Vancouver residence is traffic. The developer is working on solutions to mitigate this concern and will offer a private community bus that will transport residents to and from the SeaBus terminal in Lower Lonsdale.
If you're looking for more information on Harbourside Waterfront by Concert Properties and would like to be the first to receive floorplans, pricing, features and finishings please contact The Wallace & Green team today and we will keep you up-to-date!
Carson Green
New Home Sales Expert
carson@wallacegreen.ca
(604) 506-5364
Scott Wallace
New Home Sales Expert
scott@wallacegreen.ca
(604) 377-4551